Hey, everybody! How are you doing at the end of the week? Today in our blog we are going to give you some tips to choose the perfect pants to attend any event. And yes, these garments are also an option to wear at communions or weddings … You just have to know which one to choose!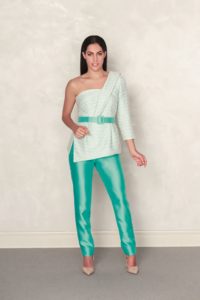 Amazing. That's the word that describes these light blue pants, with a silky fabric that gives it the perfect metallic style for an asymmetrical, breaking top. The color, the fabric, the shape… Everything comes together to create this eye-catching, exotic and very elegant garment.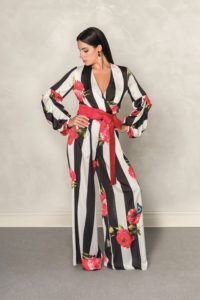 This Asian-inspired jumpsuit with black and white stripes, red rose print and red belt, maximizes the possibilities of pants, in this case, elephant's foot. If you're uncomfortable with dresses, opt for models like this one, with which you'll be more comfortable while still being the coolest.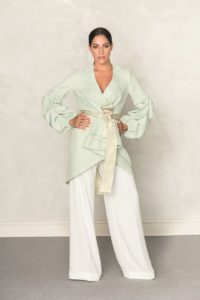 You can also combine them with blouses. In this case, we bet for pastel and white tones and, above all, for the play of volumes in the sleeves of the shirt and in the trousers themselves. Finish the look with flounces and a ribbon belt… and let's be successful!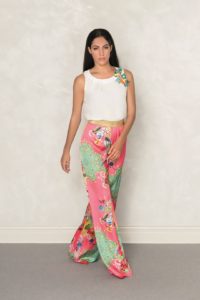 The details of these trousers have us fascinated. If something really marks a good styling is, no doubt, beautiful prints, like this one, a puzzle of flowers, leaves, and colors on a pink background … Perfect if you also add a simple top to finish off this look so "chic".
You have seen that dresses and skirts are not the only options. What's more, trousers never go out of style… and at #Nuribel we bet on them!